$20
for The Naked Foot 5K In Boulder on June 18 ($40 value)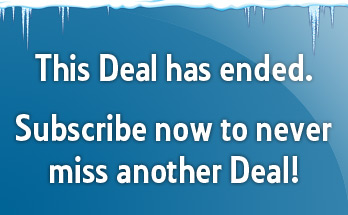 Deal Overview
Join the barefoot running craze at the Naked Foot 5K, the first national barefoot race series kicking off its shoes in Boulder June 18. You can enter the race for $20 when you buy this deal and help support Soles4Souls, the shoe charity benefitting from proceeds of the race.
Deal Rules
Deal valid on 6/18/2011.
Kids 12 and under free.
Must present deal certificate at registration between 7:30 and 8:30 a.m. on race day.
One offer per customer.
Can buy multiple to gift.
Must be used in one visit.
No credit or change returned.
Cannot combine offers.
By Josie Klemaier
WeeklyPlus.com
No, it's not a herd of shaved, shoeless sasquatches stomping through Boulder on their summer vacation; it's just the
Naked Foot 5K
in its inaugural shoeless race to support
Soles4Souls
, a shoe donation charity. Kids ages 12 and younger can attend the day's events for free and when you buy this deal, you save 50% off the entry fee for everyone else in the family at $20 each. Just bring your WeeklyPlus voucher to the registration table at 7:30 a.m. on June 18.
Activities of the Naked Foot 5K:
• The 5K course will include grass, pavement and dirt against the beautiful backdrop of the Flatirons at
Foothills Community Park
;
registration is from 7:30 to 8:30 a.m. and the 5K race begins at 9 a.m.
• Each participant gets a dry-fit t-shirt, raffle entry to win a pair of Merrell gloves and free access to all post-event activities
• Participants and non-participants are asked to donate shoes for
Soles4Souls
• Bare-feet and minimalist footwear races, including an "all-grass" one-miler
• Free kids' 1K fun run
• A "How tough are your feet?" obstacle course
• Foot painting for the kids, pedicures and foot massages for the adults
• Green and healthy living vendors
• Huarache games and Tarahumara ball games and competition
• Great prizes
You can prep for this event and learn more about sailing sole-less by joining up with the local
Barefoot Running Club.
About barefoot running
According to the
Barefoot Runners Society,
this trend brings runners down to the bare earth and is said to be a more natural way of practicing the sport. Barefoot runners say it's "changing the running world one odd look at a time." The eclectic group of barefoot runners is leaving its footprint across the country--primarily on sand, grass and pavement--with the belief that it promotes a more natural running posture than running with shoes. You may have seen their amphibious-looking minimalist footwear gracing the pavement too. Barefoot runners tout medical advice to back up their beliefs and nostalgic childhood memories of running shoeless.